Its that time of the year. I myself will start shopping for gifts tomorrow and hopefully snag some good buys.
My genies, ninongs, ninangs and friends who are thinking and contemplating about gifts for this writer will have have an easier time deciding with this list. Hahahaha.
In no particular order, here's my wishlist of gifts for the 2007 holidays:
1. An openline or Smart-locked 3G cellphone like an LG KU250 (P5,990).
This is the best backup for an internet-dependent writer. Backup because I already have an unlimited Airborne Access account that came bundled with my broadband connection at home, and I badly need it when I work outside of home and in between AA hotspots.
With the DFA WIFI as reliable as the PNP, beat reporters there such as myself always have to run to the nearest WIFI hotspot or an internet cafe just to file stories. This cellphone can also be a modem for my laptop, so I could easily connect to the internet and send the editors my stories.
The KU250 is a fine offering from LG, as can be gleaned from user reviews.
Why Smart? It offers the lowest mobile internet rates at the moment.
Photo courtesy of ITbiznes
2. Globe and Smart prepaid cellphone load!

I've had enough of the "convenience" of postpaid subscriptions.
Lately, I rediscovered the freedom of having prepaid. You're not harassed each time a bill arrives, and you only load up when you want or need to.
Cellphone prepaid loads or cards are most welcome!
(Photo from eBay Philippines)
3. A black Asus EEE PC (P18,000)
I've been lusting after this gadget, so much so that I've been trying to sell my Compaq Presario at a decent and respectable price just so I could get one. But I consistently get very low offers. Anyway, I will be happy to be able to finally get an EEE PC. Its small and therefore highly mobile, making it truly compatible with my work style as a journalist and writer.
(Photo courtesy of cooltoyz.ph)
4. Palm Treo 680 ($375)

If I can't get an LG KU250 and an EEE PC (bummer!), I'll be happy and contented with having an all-in-one device such as a smartphone. This is convenience at its purest: I'll be getting a phone that capable of connecting to the internet, and I'll be able to use it to write my stories wherever and email them pronto.
This one is cheapest to get in the states. Here, it costs anywhere between P23,000 and P28,000. In the US, its just $375 o4 around P15,000.
5. Polo shirts and six-pocket pants

My work requires me to be "presentable" at any given moment. Presentable enough to meet with government officials, diplomats, international agency experts, etc. Between going out in cargo shorts and shirts, and uber formal garb (polo and slacks), I'll opt for something in between: A year of going out for work in comfy six-pocket pants that have enough room for wallets, phones, keys, IDs, etc., and polo shirts.
I'd love to have polo shirts in all possible colors! Right now, I only have two black polo shirts, and a pair of Army green six-pocket pants.
(Photos by ideasbynet and gizmodude.)

4. Five years of domain registration
Of course, I'd like to have some peace of mind about my own domain. If anyone wants to help me pay for it, I won't stop them. No strings attached, though.
5. Books by Douglas Coupland
This fantastic author Coupland never fails to amaze me and my friends too.
6. Journalism and foreign affairs books and references
Its always good to read about one's craft.
7. Sneakers
Just this month, I used two brand new pairs of shoes and they gave up on me on one single day. I've kept them in their boxes for the past two years. They just gave up. The last pairs of shoes I bought last year and they're all giving up on me as well.
If we wish to get specific: New Balance (MR858 or MR873), Avia (Atlas II, 2052, ECS Euphoric II or  AVI Trainer), Nike (Presto Faze or Moire+), Reebok (Trail Divider) and Adidas (Fortitude II, Response Trail 14  or Microbounce+ LT).
My (foot) size is 8.5 (US) or 26.5 (Japan) or 42 (Europe) — hahaha!
(Visuals/photos courtesy of What are words worth Wordsworth?)
8. Two roundtrip tickets to Hong Kong or Malaysia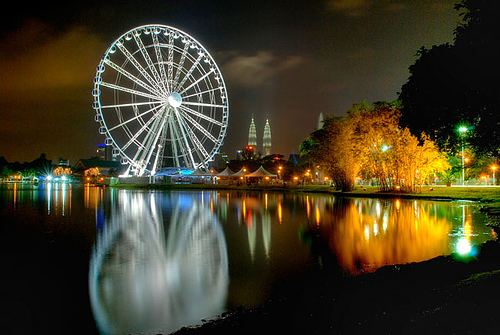 Partner and I gun for our 4th year this 2008, and we'll be happy to celebrate the feat abroad.
(Photo courtesy of Malaxi.)
9. Flash for Nikon D40 
A flash such as this will be a good companion for our D40. Partner and I need this badly for more demanding photo shoots.
Flashes compatible with the D40 include: SB-400 and SB-600
(Photo courtesy of digital-shot.com) 
10. One-year pass to Greenbelt cinemas or an MTRCB pass or a DVD player.
I want to watch as many movies this year. One bad thing that happened this year is that our home DVD player just died on us. No more DVD movies for us, or we have to use the computer to watch flicks.
Any DVD player will do.
(Photo courtesy of incebu.net)
Tandaan: Hindi masama ang mangarap! Hahaha!