Take a look: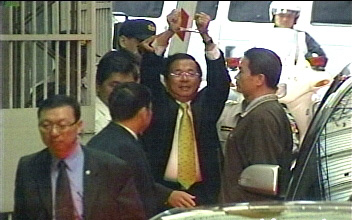 That's the former Taiwanese president Chen Shui-bian, in handcuffs and being led away as a probe into accusations of corruption went under way in Taipei. Photo courtesy of China Daily.
The Associated Press story made my heart skip:
TAIPEI, Taiwan – Former President Chen Shui-bian on Tuesday was led from a prosecutor's office in handcuffs after being questioned for five hours on money-laundering allegations.

Taiwan television stations, which broadcast images of Chen being taken away, said that Chen arrived at Taipei district court, where a judge could order his detention.
Here in the Philippines, President Gloria Macapagal Arroyo continues to escape from public accountability over various crimes. You name it, she's into it: treason, gross human rights violations, corruption.
Hopefully, justice will find a way to pin down Arroyo and make her liable for her many crimes.