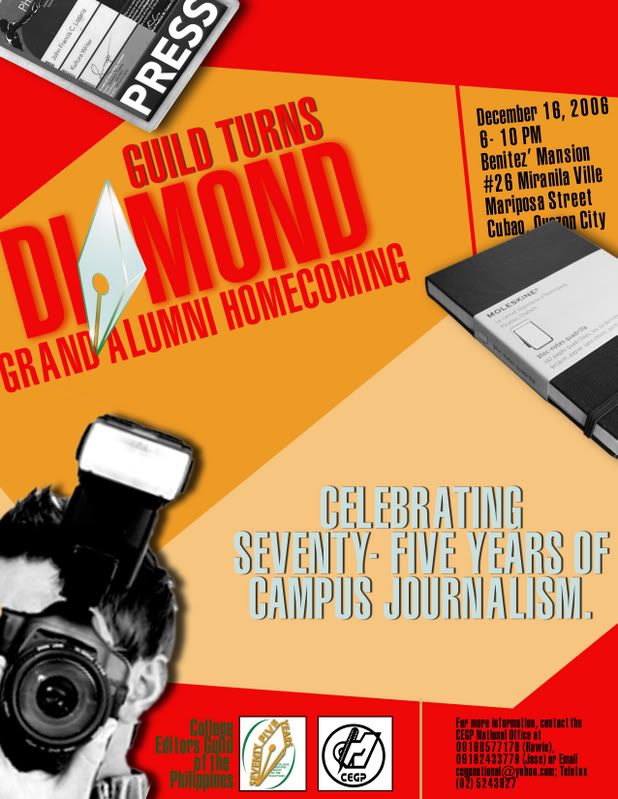 The College Editors Guild of the Philippines, whose members call themselves Guilders, hold its Diamond Anniversary Grand Reunion tomorrow Dec. 16 at the residence of former Sen. Helena Z. Benitez located at Miranila, 26 Mariposa St., Cubao, Quezon City.
As a CEGP alumnus, I will be there to listen and learn from the many former campus journalists of decades back. I also want to see my batchmates in the CEGP who were active members and officers from 1994-2000.
I am proud of my CEGP batchmates. Many now serve as public information officers of progressive people's organizations and partylist organizations. Others have discovered new ways of pursuing their activism. A big number have become mainstream journalists. One of the many CEGP members I truly admire is Beng Hernandez, who was the Guild's vice president for Mindanao and concurrent deputy secretary-general of Karapatan-Southern Mindanao Region when she was brutally killed by malignant forces while conducting research work among rural folk.
Yes, I spent six years of my life as a Guilder – studying and teaching journalism topics, raising socio-political awareness through discussions on Philippine social realities, joining campaigns for campus press freedom and democratic rights, and traveling all over the country for student press conferences. CEGP also made it possible for me to make my first travel abroad. In the process, I was able to hone my craft as a writer, and discovered that the Filipino people are in dire need of writers who choose to write about them, for them.
The CEGP is bound to get even stronger as it marks its 75th anniversary. There are always a good number of students yearning to become writers. There are many schools where students want to establish their own publications. In schools where there are publications, campus journalists continue to assert campus press freedom against all sorts of censorship and repression. The situation calls for CEGP to hold high its banner and act as the national center for campus press freedom.
Long live the CEGP!